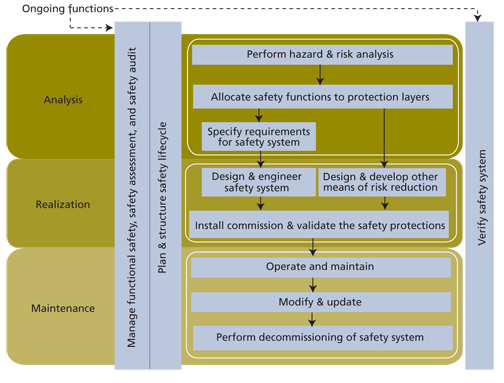 The first part, Analysis, includes performing a process hazard and risk analysis, allocating safety functions to protection layers and drafting the SIS safety requirements specification.
The second part, Realization, includes designing and engineering the SIS, building, integrating and factory acceptance testing it, installing and commissioning the SIS, and safety-validating it.
The third part, Operation, includes operating and maintaining the SIS, modifying it as needed, and decommissioning it at the end of its lifecycle.
FACILEX® FUNCTIONAL SAFETY MANAGEMENT (FSM) 
In collaboration with Gateway Consulting Group, we have developed the first fully configurable Functional Safety Management process.
The purpose of the FSM process is to ensure projects meet PSM standards (OSHA 1910.119) and functional safety RAGAGEP (Recognized and Generally Accepted Good Engineering Practices) (ISA 84 / IEC 61511).
During the SIS lifecycle the FSM business process provides a framework to:
Analyze a facility's Safety Instrumented System design,
Manage the key records required for OSHA PSM compliance and RAGAGEP,
Perform SIL Verification
Develop Safety Requirement Specifications
Enforce critical task accountability,
Optimize scheduling by minimizing redundant tasks and design deficiencies